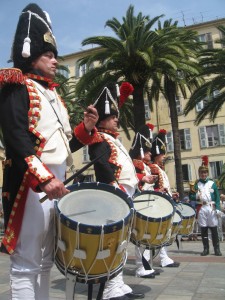 The Cenomans « The drums of the 1er french Empire » invite you to follow them down the path of Napoleonic Era to the sounds of Old Guard fife and drum.
Live again a page of history and take part in a festival of light and action
to the drumbeat of the French first Empire
45 minutes of a brightly coloured show within the small hall and by the light of the star
-Founded in 1968 through the initiative of three drummers , « Les cénomans » aim
in to gather together highly skilled drummers and percussionists.
-in 1973, after five years practising, the elite elements were able to
perform a show « hight and sound » focussed on the Napoléonic era in which the
drum (the favourite instrument of Napoleon Bonaparte) took pride of place.
-After taking part in many contest they were dubbed the « Premier group of
percussions in France » in Bruz in 1976.
-A year later in 1977 « les Cenomans » represented France in the jubilee of Queen Elizabeth II.
-Constantly improving their skills, they were selected to join the Regional
music group of Rennes to represent France during the international festival of music in Japan in 1988.
-In 1996, price of excellence to the national concour.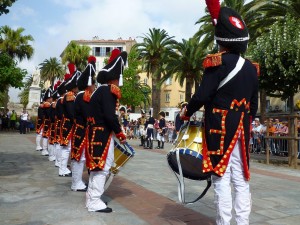 -in 2002, occur in Germany.
-in 2003, represented the french drum in Canada.
- »Les Cénomans » takes part in the festival international of muzic of rastede
in Germany  (10 nations and 2500 players)
-Highly experienced live, they were required to perform at such prestigeous
galas as the Bowling world contest, the light and sound show at Lavaré and
the officers society of the French army in Paris.
-their aim is to bring their music and instruments to a larger public in a
unique, colourful show which they have been improving for 45 years.
---